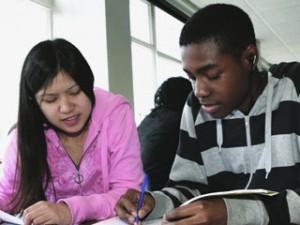 "Taking Charge" – Developed by Nancy J. Lavelle, Ph.D., President and Founder of the Institute for the Redesign of Learning, Taking Charge™ focuses on each student's unique gifts and strengths and assists the student in developing competencies towards self-identified and mutually agreed-upon goals. An essential principle of Taking Charge™ is the concept that learning and language are inextricably linked. Taking Charge™ focuses on the roles of teachers and other professionals as Linguistic Coaches working in partnership with learners to observe (or "listen" to) the underlying assumptions that lead to effective and ineffective communication and learning. We support students in addressing their own human concerns and/or underlying assumptions and awareness through language and reflection, tone of voice and positioning. Using questioning phrases like, "How can I support you?" "What do you need?" "What's wrong?" in a neutral, accepting tone of voice, while sitting next to the student, enables the student to address their own personal concerns in a consistent, safe and nurturing environment.
Class Size –
Small class size, limited to 12 students, with at least two, and quite possibly more, instructional experts with specialized training in ASD. Classroom Environment – We believe that structured classroom environments (including visual schedules, specific places for students' personal belongings, quiet areas, individualized lesson plans, clean well-kept rooms and educational centers, appropriate and engaging hands-on learning materials, bulletin boards displaying student work, etc.) are direct links to our students' successful academic, functional and social/emotional student-centered learning. Social Skills – All Westmoreland Academy students participate in a structured social skills program that provides modeling and role-playing opportunities that address student concerns (making and keeping friends, having socially appropriate conversations, being aware of the perceptions of others, displaying appropriate behaviors) and generalize these skills to a variety of environments.
Assistive Technology –
With the support of experts from leading Universities and District Assistive Technology Departments, Westmoreland Academy incorporates specialized software, video conferencing capabilities, and student iPad-based applications to facilitate our students' access to the curricula, the technological world and in support of conventional learning materials. Vocational Program –Westmoreland Academy offers a vocational program that focuses on acquiring practical work skills tailored to student interest. The development of transition planning and life skills portfolios support placement in future work settings and independent and assisted living environments.