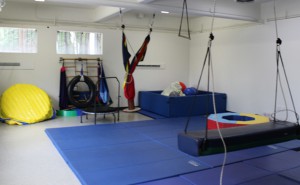 Occupational/Sensory Integration Therapy Lab Modified PE and Adapted Physical Education Program Educationally Related Mental Health Services (ERM HS)and Designated Instructional Services (DIS) Counseling
Westmoreland provides pull-out and classroom-based OT services as determined by the student's Individual Education Plan (IEP).
Westmoreland Academy's PE team are credentialed in both Physical Education and Adapted Physical Education. Instructors provide a daily modified PE program for all students and Adapted Physical Education services as indicated by students' IEPs.
Our Westmoreland Academy Mental Health Team provides consistent support for students' emotional health; including expertise in treatment of anxiety, depression, issues of anger management, peer relations and other barriers to effective school-related functioning.
Speech and Language Services
Westmoreland Academy's Speech and Language Pathologists and Specialists provide support for students with a wide variety of receptive and expressive communication disorders. Issues of language-based pragmatics, social skills, peer relationships and augmentative communication are addressed as indicated by the students' IEPs, and are consistent with the implementation of the Taking Charge philosophy.
Transportation
Westmoreland Academy provides round-trip, door-todoor service in our clean, safe and modern fleet of specially equipped vehicles with highly trained drivers.