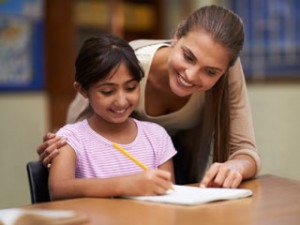 The Institute for the Redesign of Learning, a leader in special education in Southern California, since 1974, has established a unique Non-Public School (NPS) program for students with Autism Spectrum Disorders (ASD). Westmoreland Academy is based on the belief that extraordinary students deserve an extraordinary program from a specialized curriculum that can meet the individual needs of our students who learn in a multitude of ways; to well-trained, empathetic and passionate staff who support our students in recognizing that they are "Whole, Able and Complete" exactly as they are (Taking Charge™). The Institute's goal is to provide our students with a nurturing and effective education using the most current, scientifically-proven and evidence based curriculum and interventions available.
About Our Professional and Support Staff
Our Professional and Support Staff meet California license or teaching credential requirements in Special Education or area of specialization. All professional staff participate in the Taking Charge for Educators™ training course. Related-services personnel provide additional small group and individual services to assist each child to reach their full potential. Supervision is provided by an Education Director holding a Doctoral or Masters in Education Administration, Special Education or related fields; in addition to Program Coordinator(s) and other mental health professionals.
About Our Parents and Caregivers
Parents and caregivers seeking an educational program for their student with ASD usually look for a school able to individualize a program to meet the unique needs of their child. The intake
process at Westmoreland Academy offers both parent and child the opportunity to choose the most appropriate education program for their unique needs and to make a commitment to working together with Westmoreland Academy staff to achieve the best possible outcomes for each student. Cooperation between families and staff members is further enhanced through available support groups and trainings.
Further information about our services:
Please contact us. All questions are welcome.
Westmoreland Academy
A Program of:
The Institute for the Redesign of Learning
5 & 6 Westmoreland Place
Pasadena, California 91103
Tel: 626.356.1500
Fax: 626.356.1501
www.redesignlearning.org
Call 323.257.3006 to be directed to other programs offered by the Institute for the Redesign of Learning:
Almansor Early Education Services
Almansor Academy Special Education Day School
Almansor Transition and Adult Services
Almansor Taking Charge Mentoring Program
Almansor Mental Health Services
Almansor Supported Employment and Job Placement Services
Almansor Community Outreach Services
A Community Service Program of the Institute for the Redesign of Learning, a California non-profit, tax-exempt 501 (c)(3) organization.